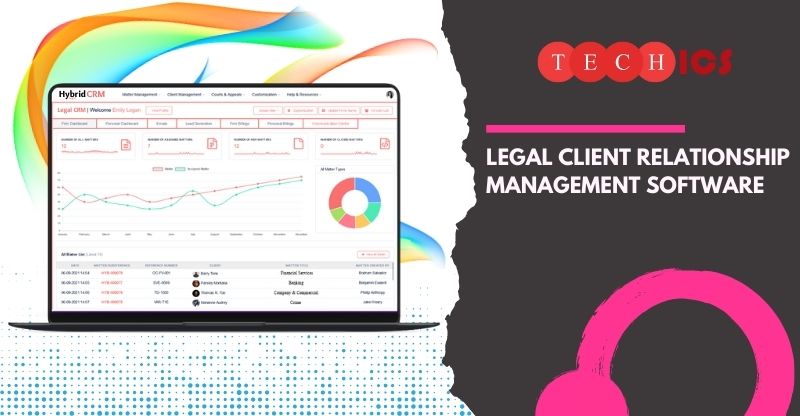 CRM is a Customer Relationship Management software that is widely used in law firms to manage different crucial tasks. Tech ICS offers two types of products, one is the Hybrid Legal CRM used by the legal profession and the other is Hybrid CRM to be used by all types of businesses.
Our Hybrid CRM comes with the ability to integrate with the everyday applications that you may use. It may include emails, billings and other applications. Legal client relationship management software is easy to use, and all ranges of law firms can freely use it. We love our customers to understand more about us and our products, as we are here to serve the business community.
Learning about Hybrid CRM
CRM system supports business growth, lets you manage your client's relationship with your organisation, and maintains service delivery. Our platform lets you manage your customers, serve them and ensure you retain their services. A good customer relationship management system helps achieve this by facilitating quality conversations with prospects and customers.
Does your Hybrid CRM help with the marketing and branding of our business?
The Hybrid CRM platform allows your marketing team to analyse the data. It allows them to also use the dynamic fields to manage data that is relevant to the organisation. We understand businesses operate differently, so we want to make our platform as flexible as possible.
Our platforms are designed as we understand that capturing your customer data is vital and supports your business growth. We help you collect data, organise the data into relevant information, and then process data management.
Legal client relationship management software for lawyers
Nowadays, legal client relationship management software is one of the most important software for law firms. There are a bunch of privileges to using legal software, and lawyers can safe their valuable time by using CRM.
It is noticed that whenever a client comes to the law firm or any consultancy form, then the lawyer must need to keep a record of their client's data, save the document for the further moment, client scheduling, summarise, analyse the client's intention, and lawyers can track revenue also.
There is some other small task, whereas the lawyer spends more time on it. For this reason, they cannot focus on the other valuable task. In this case, Hybrid CRM can give you the privilege to manage this simple task, and they can move to some other new clients. For this reason, most law firms are widely using legal client relationship management software for law firms due to get more benefits.
Law office management software
Law office management software or law firm management software is designed to manage all the crucial tasks of law firms. Most law firms use CRM to keep records of client documents, scheduling, appointment, litigation deadline, and others. This software is also called law office software or law firm software. To manage your law firm task successfully you can use hybrid CRM.
Because hybrid CRM is one of the better-listed software tools on the market today for law firms and attorneys. There are more attractive features of it but one of the best features is that multiple persons are able to use it for law firm management system.
CRM software for legal services
It has been told before that there is no comparison to using CRM for legal services. Basically, CRM software for legal services is used to develop law firm business with a systematic approach.
So that lawyers can easily provide their legal service to all their valuable clients. Hybrid CRM allows multiple law firms and lawyers to gain access to rich data so that they can use it whenever engaging with business contact or clients.

On the other hand, you can build a relationship with the clients by using legal CRM software. Legal firm CRM can increase trust, retention and expansion between clients and law firms. It is comprehensive software to develop business with less effort.
Law office CRM can strengthen your business relationship with new and previous clients. It can be the key to attracting and developing business. Not only for a law firm, but a CRM system can also be useful for different kinds of business purposes based on the business category.
Legal practice CRM for law firms
CRM software for legal firms or legal practice CRM for law firms that is largely used for legal services. We know well there are three ranges of law firms in the United Kingdom small, medium, and large law firms.
Law firms' size and shape is not a consideration, and anyone can use law firm software for their legal matters. Our hybrid CRM has been created for all shapes of law firms, and lawyers can freely use hybrid CRM because it is specially designed for law firms.

Those who are doing law practice can also use our comprehensive CRM tool. Many companies have provided client relationship management software for law firms in the digital marketplace and offer different opportunities. The hybrid legal CRM software is offered you to use for a 14-day free trial. If you feel better about using it, you can contact us to use it continuously.

Costs related to the Hybrid CRM
Our costs depend on the number of platform users, and if you choose annual plans, you will be provided discounted rates. We value long term business which is the reason why this is offered.
Do you have lead generation functions within your Hybrid CRM?
Yes, we do. Whether you are a legal profession, business profession or business that provides service to a client, our platform permits you to manage from the moment a client makes contact with you to the contact made by your team to the resolution of their enquiry. We help your business grow through our platforms.
What are the Hybrid legal CRM features for law firms?
It is true that law firms make a deal with a large number of clients and store massive data within a day. In this case, Hybrid CRM can help your law firm to avoid these difficulties. There are some impressive Hybrid CRM features for law firms, such as
1. Effective management by using CRM software
If you wish to provide better service to your clients, you should talk frankly with your clients about how much you can. For example, you can record your client's statement and talk about the document because documents are the key to getting bail from any litigation. You can easily do this work by using hybrid CRM tool, and you can manage everything with success.
2. Improve information accessibility by using legal CRM
The core feature of the best legal client relationship management software is the strong consolidation of information and a centrally accessible database. For example, if you store contact information on the CRM platform, you can access and reference their contact information at any time in the future. You will be glad to know that anyone can access this information at any time.
3. Easy organization of important tasks
Another fundamental feature of legal Customer Relationship Management is organizing and scheduling crucial tasks. Customer Relationship Management allows you to set a reminder to contact a prospective client, meet the objective and deadline, and complete the note.
Your lawyer can see the progress and follow the lead from the stored data. CRM system can give you a precise marketing analysis. You can recognize the most profitable clients and build communication methods using Hybrid legal software.
4. Client Database
A CRM database or customer database management system is a resource that contains all the client information, transformed, governed, and shared across the organization. Customer Relationship Management is also included in marketing reporting tools responsible for increasing client engagement. Basically, the more benefits of a CRM database is to improve customer relations and ultimately improve client retention.
5. Lead Capture and Lead Management
In the legal client relationship management system, the lead capture designates the process of saving lead information in order to tray converting the lead to paying clients. At the same time, lead management is a critical subset of CRM. Hybrid CRM is important to accept and follow up with leads and phone calls. CRM systems have been very effective in helping businesses work more efficiently.
Legal CRM application
CRM means that client relationship management. It can be used for different sectors (business firms, real estate, law firms, etc.) to manage essential business tasks. It has been estimated that the popularity of legal CRM applications is being improved arithmetically due to its large number of comprehensive advantages.
Basically, law firm CRM software is specially designed for legal firms or legal services. The law firm CRM is more helpful for tracking clients' data and is greatly responsible for managing the relationship between the clients and lawyers. It helps to state connection to the clients with the lawyers and increase profitability. There is also more privilege for the law office CRM tool that we refer several times to another section.
What functions are available on the Hybrid CRM platforms?
Full details of our platforms can be found on the product solution pages. The Hybrid CRM details can be found by clicking here on the Hybrid CRM. We offer free trial access on our platforms, you will be available to use our Hybrid CRM free trial for 14 days. So you can check the system before you decide to buy.